Arlington 703.527.3019
Arlington 703.527.3032
MORE PEOPLE ARE TRYING THAI
Find out why
Our goal at Origins Thai Spa is to help you achieve good health. We want to provide the highest quality service, using techniques and influences handed down for thousands of years throughout Southeast Asia, China and India. We are not just providing a high-quality technical massage, but creating an atmosphere of genuine caring and concern for your well-being. If you need any assistance or have any questions please contact us.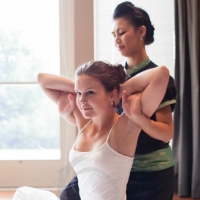 In 2015 we opened our second location in Arlington so we could more easily serve our Washington DC and Northern Virginia clients. It boasts almost 6,000 square feet of beautifully designed space, which includes 17 massage treatment rooms including 5 extra large rooms for couple massages.
Welcome to Origins Thai Spa
Purchase Gift Certificates for our Arlington location.
Spa, Massage, Health & Beauty Services
Beyond Thai Massage – Arlington, VA
Contact Info
925 N Garfield St. Suite E
Arlington, VA, 22201
Entry on N. Fillmore
Phone : (703) 527-3019
Phone : (703) 527-3032
Ensure you get a massage
EVERY
month for a fraction of the price. Become a member and enjoy up to 60% off spa services and get 1 FREE massage a month.
Check out our current specials! Every month we offer refreshing deals to ensure you have no excuse to not come in and enjoy a relaxing spa treatment.
We offer a full selection of spa services including massages, facials, waxing and body treatments.